Oracle ACE Director, Jim Czuprynski, joined Viscosity North America (Viscosity).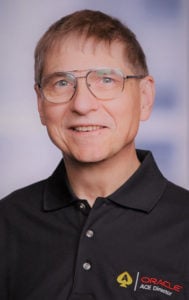 Viscosity Hires a Sixth Oracle ACE
Viscosity North America (Viscosity), a professional services leader in database, virtualization and cloud technologies, is excited to announce their 6th member of the Oracle ACE Program. This week, Jim Czuprynski, an Oracle ACE Director since 2014 and four decades of experience in information technology, joined the Viscosity team as a Senior Enterprise Data Architect. Jim will be a contributing member of the Exadata and Cloud team at Viscosity with his Oracle Certified Professional (OCP) certification for Oracle Database releases 9i, 10g, 11g, and 12c; and also brings with him a deep expertise in performance tuning, database migration techniques, and workload testing."Jim is a popular speaker at Oracle events because he sees the value of features from the perspective of the Oracle DBA," said Charles Kim, Viscosity North America President. "That role continues to evolve with the onset of new technology like Autonomous DB, so we're excited to have Jim on our team to help articulate the value of upcoming database releases."
Viscosity now has five Oracle ACE Directors and two VMware vExperts, the only company in the world that has achieved both ACE Director and VMware vExpert designations.
About Viscosity North America
Viscosity North America Inc (Viscosity) an Oracle platinum partner and a Quest platinum partner focusing on data management based technologies headquartered in Dallas, TX. Viscosity focuses on data driven emerging technologies, delivers business transformation solutions, and drives value to customers by demonstrating ROI with their hardware, software and cloud investments. Viscosity specializes in the niche technologies such as cloud (Oracle Cloud/AWS/Azure/Google), clustering technologies, data warehousing, Oracle/SQL Server, high availability, data replication, managed services, and performance tuning. Viscosity has deep expertise in Oracle's engineered systems (Exadata, ODA/ZFS Storage Appliance), maximum availability architecture and various operating systems (Linux/Windows/Solaris/AIX).
Read Viscosity's full press release on Jim Czuprynski joining the team: here.
For more information contact:
Monica Li, Director of Operations and Marketing
(469) 444-1380
monica.li@viscosityna.com